Sigil blockchain for crowdfunding era
Hello, my friends!
How are you?
Some days ago I found an interesting crypto currency with a good growth potential in the coming months.Main idea — Crowdfunding. The token is called Sigil. Trading on the exchanges will be under the ticker SGL.
Sigil is a new revolutionary crypto currency, which embodies the double ideals of security and efficiency. It includes the best features of Proof of Work and Proof of Stake. Team Sigil is developing a new generation of technology for crowdfunding era. Their goal is to provide a most transparent and secure ecosystem.
Website: www.sigilplatform.com
Whitepaper: http://sigilplatform.com/wp-content/uploads/2018/01/Sigil_WhitePaper.pdf
The goals of the Sigil project are:
— create a secure product that users can evaluate and easily use.
— follow the development roadmap steadily
— preservation of a transparent model of release of tokens
— identify as the most technoligical company in blockchain area in relation to decentralized crowdfunding platforms
Characteristics of the coin:
Sigil uses Proof-of-Work (PoW) and Proof-of-Stake (PoS). Only 50,000,000 coins can be issued. For each block, the miners will receive a reward at 25 Sigil. Transactional fees are also very low.
From a maximum of 50,000,000 coins:
40% for marketing
20% for developers and management costs
20% off bounty program
10% further development
10% legal subtleties
Road map for the near future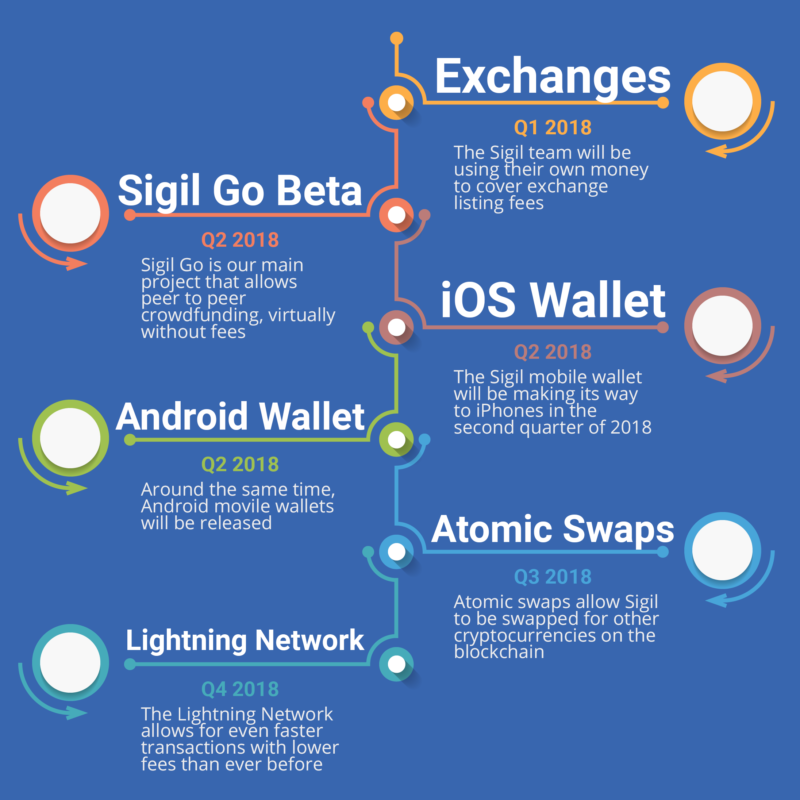 The Sigil platform is currently under the working title «Sigil Go» and is intended to be the first blockchain for initial development and research. The team expects this to be a more efficient, transparent crowd-hosting platform.
Sigil platform features:
— easy launch of individual projects
— financing of existing campaigns
— complete absence of any commissions
— security through a decentralized blockchain (using Sigil for internal payments)
These tools and more should allow any user to easily launch the campaign from the very beginning. The entire process will be monitored using a Sigil chain. All collected funds will be sent directly to the person who launched the campaign, without any fees.
Quite an interesting and unusual idea for the field of crowdfinding. Now the project is still very young, but after six months can already declare itself.
In another post, I'll show you how you can configure the mining of this SGL crypto currency (Sigil).
Observe your risks and profits will not keep you waiting.
Until the connection!